Wednesday - 06/15/1988
The Front
Burlington, VT
Set I: Suzy Greenberg, Alumni Blues > Letter to Jimmy Page > Alumni Blues, You Enjoy Myself, Wilson, Rocky Top, McGrupp and the Watchful Hosemasters, Fluffhead, Golgi Apparatus
Set II: La Grange, Fee > Timber (Jerry), I Didn't Know, The Lizards, AC/DC Bag, The Sloth, Contact, Dinner and a Movie, Take the 'A' Train, Good Times Bad Times, Whipping Post, Dear Mrs. Reagan
Notes: This show marked the first known performance of Contact; Contact lyrics were also sung during Dear Mrs. Reagan. Whipping Post began as Antelope. The actual date of this show may have been June 16, 1988.
Thursday - 06/15/1995
Lakewood Amphitheatre
Atlanta, GA
Soundcheck: Funky Bitch, The Old Home Place, Julius
Set I: My Friend, My Friend, Sparkle > AC/DC Bag, The Old Home Place, Taste, The Wedge, Stash -> I Didn't Know, Fluffhead, Run Like an Antelope
Set II: My Sweet One, Ha Ha Ha > David Bowie, Strange Design, Theme From the Bottom, Scent of a Mule, Acoustic Army, Slave to the Traffic Light
Encore: Bouncing Around the Room, Frankenstein
Notes: Stash was unfinished and melted into I Didn't Know, which was performed in an eerie, slower fashion and featured Fishman on trombone, Mike on electric drill, and Trey on megaphone. Bowie included some odd chanting, including the phrase "Send me on my way" (although not in a manner similar to the Rusted Root song of the same name).
Thursday - 06/15/2000
Big Cat
Chuo-ku
Osaka, Japan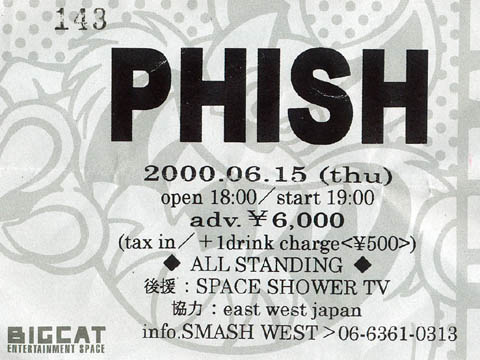 Soundcheck: Heavy Things, Uncle Pen, "Who Let the Lemmings In?" Jam, Windora Bug (with alternate "we got really drunk last night" lyrics)
Set I: NICU > Chalk Dust Torture, AC/DC Bag, Uncle Pen, Ghost, Frankie Says, The Divided Sky, Farmhouse
Set II: Down with Disease, The Lizards, Bike > Hold Your Head Up, You Enjoy Myself
Encore: Gotta Jibboo
Notes: Bike was preceded by a vacuum solo and followed by several runs through the HYHU theme, with each faster than the one before it. Disease included a Birdland tease.
Tuesday - 06/15/2010
nTelos Pavilion
Portsmouth, VA
Soundcheck: Gone, Sleep Again, The Connection [list and order unconfirmed]
Set I: Tube, Kill Devil Falls, Slave to the Traffic Light, Lawn Boy, Poor Heart, AC/DC Bag, The Moma Dance > My Friend, My Friend, Cold Water, Bathtub Gin, Stealing Time From the Faulty Plan
Set II: Wilson > Seven Below > 46 Days > Idea, Also Sprach Zarathustra > Simple > Joy, Taste, Theme From the Bottom, A Day in the Life
Encore: Heavy Things, First Tube
Notes: This show marked the Phish debut of Cold Water and the debut of Idea.