You know it!
It was great meeting you adam.
Alpine Night II
Phishinsky, I, and Tube47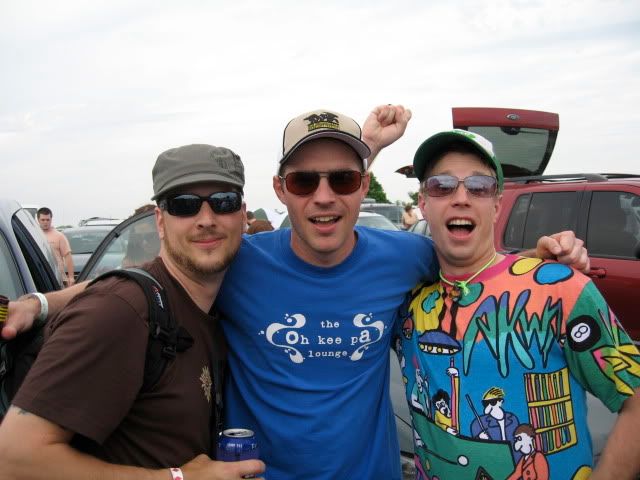 PHG, myself, & willbreathes

Looking good Marianne!
lol, phishinsky looks so feminine in that pic
sorry buddy!
is there still a site to order shirts from?
i've tried looking around and haven't really found anything
… there never was a site.
I need to get myself an oh kee pa shirt.
ok so im guessing no one is going to take orders for shirts…so…i saved the graphics on my computer and i am going to go look around where i live for somewhere that made shirts…ill get back with what i found in a few days
ahhh!!! when did One pull this off?
The shirt came just a few days ago.
Thanks for those graphics, man.
i guess i should post this in here too, since devin is wearing the OKP shirt
me and him @ The Gorge

we do seem to be growing in number anyway, cult like status has still yet to be achieved, only after a real "oh kee pa" ceremony has taken place with all members present can we be a cult.
My third eye is saying to put on these slippers, try on this white robe, and there is a fountain that flows with unlimited blue Kool-Aid.
I was always a fan of the red…blue never was my bag.
This picture makes me very happy for some reason. Must be some form of parental reflection.
how does one acquire one of these shirts?
See, this picture makes me sad.
Must be some form of sibling jealousy.
I love the Gorge so much.
Looking good Brad & Devin!
This is me after sitting in traffic for an hour this morning just to find out my class was canceled
brrrrr! it's cold!